The chart below shows the entry and exit points for the Brexit trade. GBP JPY was preferred over Cable as the Yen safe haven flows combined with Sterling selling produced the most pips.
One of my many strategies clearly shows the entry and exit levels for this trade, which could have banked you over 2600 pips.
This trade is based on just one simple strategy that i use to trade the markets. I have many strategies that i can teach you in my Forex training course.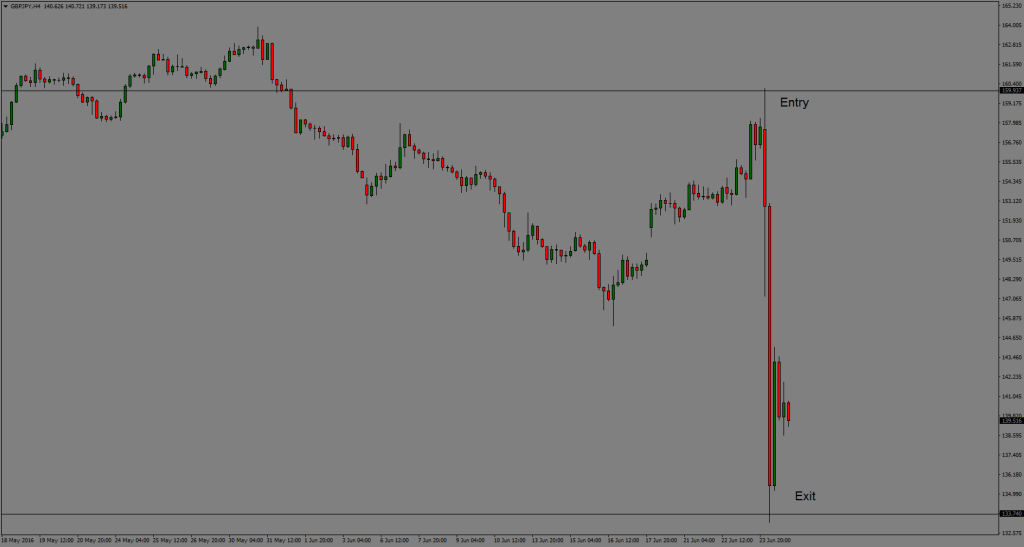 I know what you are thinking, that i have just drawn 2 lines on the chart, one at the top of the move, and one at the bottom, but let me just say this for all you doubters out there. I can with 100% confidence show you why one of my strategies clearly identified these 2 points on the chart for entry and exit of this trade. If you trust me and enroll on my Forex training course i will tell you why this trade worked, and show you many other high probability trades like this.
Please don't get my training course confused with all the other crap out there. I will teach you what no one else can teach you. If you want to really understand the market, and be in a position to profit from trades like this, then please contact me for an informal chat.
Have a great day and thanks for visiting.